Emergency Vet in Rock Hill
Having a Pet Emergency in Rock Hill, SC?
Any time that you are unable to reach your primary care veterinarian - nights and weekends - we are here to help. At Carolina Veterinary Specialists in Rock Hill, our South Carolina emergency veterinarians are specially trained in emergency and critical care.
What to Do in a Pet Emergency
Emergencies can arise suddenly, but knowing what to expect when you arrive at our emergency veterinary clinic will make the process easier for both you and your pet.
STEP 1
Call Ahead if Possible
We know pet emergencies often happen in minutes and that you may not have time to call us in advance, but it's always ideal if you can. If you do have the opportunity, you can also complete our New Patient Form. 
STEP 2
Get to Our Emergency Animal Hospital Immediately
A member of our team will escort you to an exam room and you'll be asked to fill out our New Patient Form if you have not already done so. Your pet will be triaged by a veterinary technician before being fully examined.
STEP 3
Determine Treatment
Once your pet has been assessed by a veterinarian, they will develop a treatment plan so your pet can receive the best possible care. We'll update your pet's primary care veterinarian with your pet's medical history and files to ensure seamless, integrated care.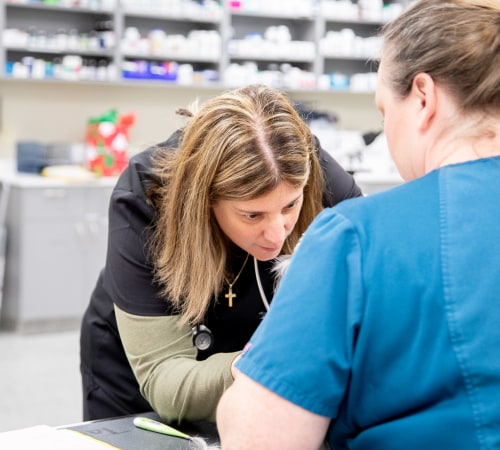 Pet Emergency FAQs
In situations that require immediate attention or could potentially be life-threatening, we provide emergency veterinary care.