Veterinary Neurology & Neurosurgery in Rock Hill
Neurology & Neurosurgery for Rock Hill Pets
At Carolina Veterinary Specialists in Rock Hill, our veterinary neurologists diagnose and treat disorders of the brain, muscles, spinal cord, and nerves in pets. 
Please Note: A referral from your primary care veterinarian is required before making a neurology appointment.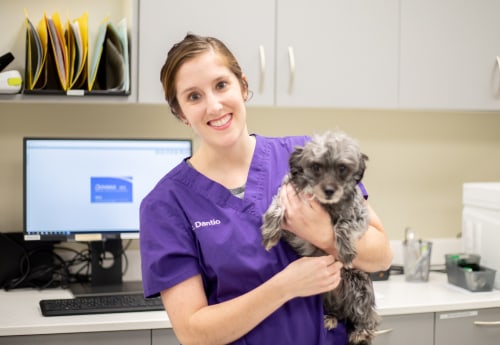 Our Neurology & Neurosurgery Services
Pets with neurological conditions see our veterinary neurologist at Carolina Veterinary Specialists in Rock Hill, who delivers comprehensive surgical and medical care.
Once you are referred to our hospital, the neurologist will complete a neurological exam to learn if, and what part, of your pet's nervous system is impacted. 
After the exam, the neurologist will review probable causes of your pet's issues and discuss the diagnostic tools and tests needed to determine the precise cause and treatment options, including medical therapy, surgery, or intensive care.
Our Veterinary Neurologists
A veterinary neurologist has graduated with a doctorate in veterinary medicine, and completed additional training in veterinary neurology and neurosurgery. This includes an internship and residency to provide firsthand experience in the diagnosis and treatment of neurological diseases impacting animals.
Neurological Conditions in Pets
Veterinary neurologists typically treat a range of neurological conditions, including:
Balance Problems
Seizures
Behavioral Changes
Spinal Pain
Intervertebral Disc Diseases
Leg Paralysis and/or Weakness
Tremors